We tried hard to spread out our picks, but when it comes to high country, the western United States just can't be beat. And even though it lies within the borders of our northern neighbor, Canada's Icefields Parkway gets so many reader raves that it just had to be included. Always Take high-quality and specially designed GoPro Cameras For Camping, Hunting & fishing.
No matter which road you take, you can forget the Calgon this summer. These 5 scenic mountain drives are all you need to be taken away.
Kancamagus Highway, New Hampshire
While fall is definitely the prime time to take a road trip to New England, you might not want to share that road with every leaf-lover in the Northeast. To explore the beauty of the White Mountains and avoid bumper-to-bumper traffic, try touring the Kancamagus Highway in the preseason (i.e. summer). Running along the flank of Mount Kancamagus and through White Mountain National Forest, the Kanc offers stunning alpine views, a wide array of wildlife, and access to numerous trails.
As you cross Kancamagus Pass (2,855 feet), watch for Mounts Hancock, Hitchcock, and Huntington on the left, and Loon Mountain and Mount Osceola on the right. Watch out for critters, too—you may turn a corner to find a moose mid-road, so drive carefully. Besides the many White Mountain moose, you'll find black bears, deer, and foxes in the forest.
For a good leg-stretcher, set your boots to the three-mile Boulder Loop Trail. Take in the view of the Passaconaway Valley from 1,000 feet up, and take a good look at ancient New England bedrock, scratched and scoured bare by glacial activity.
Just the Facts
Route: Lincoln to Conway via NH 112.
Length: 34 miles (one hour)
Season: May through October.
White Mountain National Forest
Skyline Drive, Virginia
If you like to slow down and enjoy the ride, Skyline Drive is the road for you—and not just because the speed limit holds you to a leisurely 35 miles per hour. Driving this gently graded, sharply winding road lets you explore the beauty of Shenandoah National Park from atop the narrow spine of the Blue Ridge Mountains—which is reason enough to stop and smell the rose azaleas.
Pull off at one of 75 overlooks to take in the view—the gentle, rolling hills of the Virginia Piedmont to the east, and the fertile Shenandoah Valley to the west. Get a closer look at wildflowers, ferns, and, in late spring, banks of mountain laurel in bloom. Stretch your legs with a walk down the Limberlost Trail, which passes through a stand of giant hemlocks—some as ancient as 400 years old. For a more serious trek, tackle part of the Appalachian Trail; 101 of its 2,160 miles run through the park.
Wildlife abounds in Shenandoah, with the black bear being the marquee critter. If you feel like getting up close and personal, the best places for ursine viewing are along the drive at Milam Gap, Skyland, and Big Meadows access roads; bear sightings are also common at Loft Mountain. While deer can be seen almost anywhere, check out Big Meadows at dusk; meander through the grass and you'll spot between 50 and 100 deer, from adorable fawns to championship bucks.
Just the Facts
Route: Front Royal to Rockfish Gap through Shenandoah National Park.
Length: 105 miles (four hours)
Season: Year-round; occasionally closed due to winter weather.
Shenandoah National Park
Arkansas Scenic 7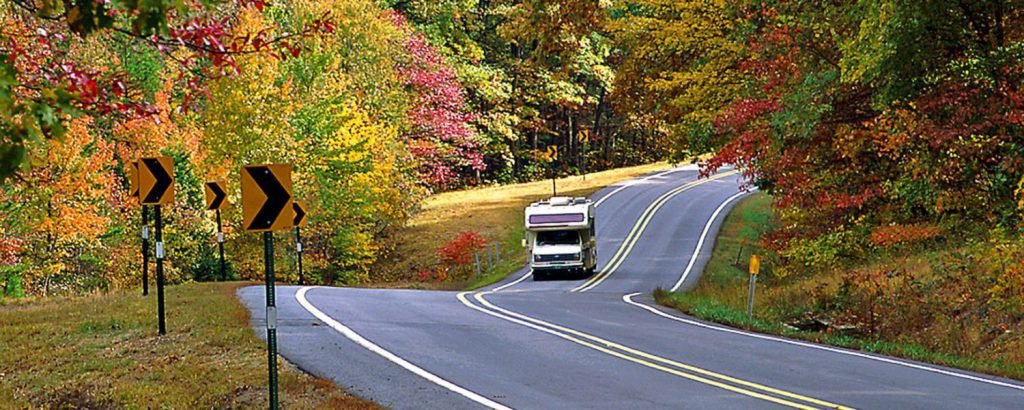 While you won't find the same jagged, towering spires that you will in the West, the East's older, gentler terrain still holds amazing opportunities for scenic road tripping. Passing through not one but two national forests (Ouachita and Ozark), Arkansas's Highway 7 offers vistas of high-mountain meadows, rugged highlands, deep hollows, and hardwood forests.
Along the drive, visitors enjoy easy access to fascinating geological features such as Sam's Throne, Pedestal Rocks, and Alum Cove Natural Bridge—a 130-foot-long and 20-foot-wide arch carved from the rock bluff by the forces of nature. Check out the scenic overlook at Buffalo River Canyon, where a short trail leads to a good view of the river against a backdrop of cedar-covered dolomite cliffs. Arkansas even has its own version of the Grand Canyon. Just north of Judea Mountain (2,169 feet), the landscape takes a sharp 600-foot drop, offering a sweeping view across Big Creek Valley for several miles.
Just the Facts
Route: Hot Springs to Harrison.
Length: 160 miles (one day)
Season: Spring through fall.
Ouachita National Forest
Ozark—St. Francis National Forest
San Juan Skyway, Colorado
Winding for 232 miles through the San Juan and Uncompahgre National Forests, the San Juan Skyway takes the high road through some wild Colorado country. The loop travels among towering San Juan fourteeners, high-country forests of spruce and fir, and ancient Anasazi ruins.
Near the alpine village of Ouray, you'll find Box Canyon Falls, a 285-foot cascade which plummets down over dark limestone into a deep canyon. For a quick break, soak yourself in nearby hot springs, open year-round.
The famous Million Dollar Highway section of the Skyway, a 50-mile stretch from Ouray to Silverton, curves through the iron-rich Red Mountains, along the sheer sides of the Uncompahgre Gorge, through tunnels, and above cascading waterfalls.
The Skyway breaks 10,000 feet a number of times during its loop, starting with the highway's highest point, Red Mountain Pass (11,075 feet). After cresting the consecutive mountain passes of Molas (10,880 feet) and Coal Bank (10,630 feet), the drive hits you with one last high point—10,222-foot Lizard Head Pass, which offers spectacular views of the jagged San Juans.
Just the Facts
Route: Loop from Ridgway through Ouray, Silverton, Durango, Cortez, Dolores, Telluride, and Placerville.
Length: 236 miles (one to two days)
Season: All year; mountain passes sometimes closed in winter.
San Juan National Forest
Uncompahgre National Forest
Trail Ridge Road, Colorado
For stellar roof-of-the-Rockies views, hit Trail Ridge Road, America's highest continuous highway. Traversing Rocky Mountain National Park from east to west, the route rises some 4,000 feet in a matter of minutes, passing from montane forests of aspen and ponderosa pine to thick subalpine forests of fir and spruce. At timberline, the last stunted, wind-battered trees yield to the alpine tundra.
After winding its way between glacier-sculpted peaks for 50 miles, the road drops into the Kawuneeche Valley, where the north fork of the Colorado River flows. Trail Ridge Road travels for 11 miles above 11,000 feet and for four miles above 12,000 feet. The road's highest point—a lung-busting 12,183 feet above sea level—occurs between Lava Cliffs and Gore Range.
As you drive skyward, be sure take in the views at Rainbow Curve, Many Parks Curve, and at Forest Canyon Overlook. The vistas sweep north to Wyoming, east across the Front Range cities and Great Plains, and south and west into the heart of the mountains.
Just the Facts
Route: Estes Park to Granby on U.S. 34 through Rocky Mountain National Park.
Length: 55 miles (one-half to one day)
Season: Memorial Day to mid-October.
Note: Admission fee to park.
Rocky Mountain National Park